Description
"You can't learn what to do with your arms and legs if you're afraid you might not live." Start at the beginning and skip no steps. It is literally impossible to fail if you try our system. (Pushing yourself is not using the system.) We cover all the shallow water skills you need while you remain happy. Begin to learn how to be at ease in the deep, too, by beginning to rely on yourself for your safety, not the bottom or the side.

8 three-hour classes of 1 hour on land followed by 2 hours in warm water
Register 120 days or more in advance to receive a discount of $50, deducted when your balance is paid.
A nonrefundable deposit of $150 holds your space in class ($200 in SF).
You Can Count On:
Going at your own pace, so that you can be comfortable all the time.  You can learn.
Sharing your discoveries and surprises with classmates
Realizing that yes, you can learn to swim. See the light at the end of the tunnel.
Up to 8 adults in class, all at different starting points and learning rates but all needing the same information and therefore learning together and at their own pace
Doing things you never could, because you feel better than you ever did in water
Being a different person—more yourself—when you leave
Who Are Our Beginners?
Beginners may or may not have taken swimming lessons before. They may wonder why they're stuck. Others know their fear hasn't been addressed. They know there must be a way to learn to swim. They're willing to try something new. They want to learn at their own pace.
Where and How?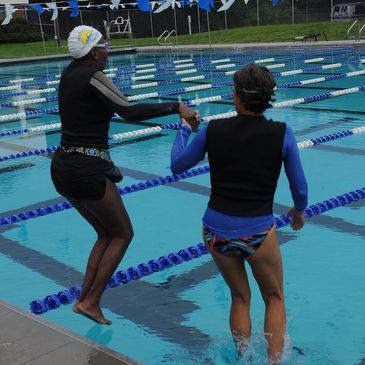 Sarasota, Florida, 24 hours, $1399, 5 days
San Francisco, 24 hours, $1545, 4 weekends, Saturdays and Sundays, 3 hours each
Palm Springs, California, 24 hours/ $2719 5 days, includes hotel and spa service